I mentioned a few posts ago about my hobby of crocheting. Well, here are my pictures!

Erica is sitting on my blanket. Notice the wave effect of it. Nice, huh? I couldnt get a picture with her eyes open. She always says "cheese" and wrinkles her nose and squints her eyes.

The other picture is my washclothe. Cute, huh? Its just a little thing. I thought to do it b/c Corinne mentioned on her blog an exchange. I'm not gonna enter, b/c I'm really not that great. But it made me want to make one anyway. So now I use it when washing my face. Works well.

Now I'm off to play Candyland, which is one of Erica's favorite hobbies. I think that will be the theme of her birthday party. It should be easy to pull off, don't you think? I'm already coming up with ideas. If you have any, let me know! It's coming up in exactly 2 months! Yikes, 3 years old!!!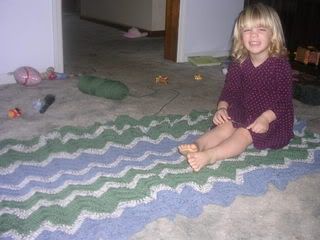 [Anyone else having trouble uploading picts, or is it just me? Blogger wouldn't let me, so I had to upload them to Photobucket and then copy the HTML and put it here. Ugh!]